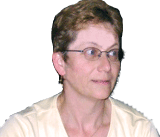 Barbara Balch Packales
is a Music Specialist currently teaching K-5 in MSAD #11, Gardiner, Maine. She divides her time between the Helen Thompson School in West Gardiner, the River View School in South Gardiner and the Pittston Consolidated School. Mrs. Packales has held teaching positions in MA, NH, TX and ME. She also maintains a private piano studio in addition to being a professional musician employed by St. Leo's Chapel in Litchfield, Maine.

Mrs. Packales is a private Educational Consultant in the field of assessment for the Fine Arts. She has been a member of the Maine Learning Results Revision Advisory Board for the Department of Education and is a member of the Curriculum Coordinating Committee of MSAD #11. She is currently founding a company that provides webmaster and computer services specifically to non-profit organizations and their employees.

She is a member of the following organizations:

Mrs. Packales completed her undergraduate work at the University of Lowell in Lowell, MA with a Bachelor of Music Education degree. She is currently enrolled in graduate studies through the online cohort division at Lesley University in Cambridge, MA in the Technology in Education program.

She lives in Pittston, Maine with her composer husband Dr. Joseph Packales and her teenage son. She is a professional equestrian trainer and avid sailor.